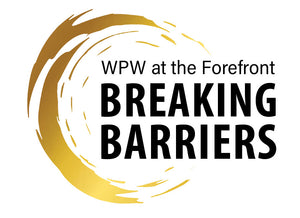 WPW at the Forefront Breaking Barriers Conference News
Dear West Point Women,
On October 7, 1975, President Gerald Ford signed Public Law 94-106 allowing women to be admitted to the Service Academies and on July 7, 1976, 119 from the Class of 1980 made history becoming the first women to join the Corps of Cadets at the United States Military Academy at West Point. 62 of those women later graduated cementing their legacy in the Long Gray Line.
Today, there are more than 6,000 West Point women that span four decades and 46 classes from the Class of 1980 to the Class of 2026 (our current plebes). West Point Women are leading from the front in the military and beyond. Together, we maintain strong bonds and a sisterhood like no other.
Through our West Point Women's Conference, we have the opportunity to celebrate all of these many achievements and connect and inspire each other. Please join us for the 4thWest Point Women's Conference April 7-9, 2022, which will be held in-person at West Point, NY and will include a virtual component.
Every week leading up to the conference, we will countdown to the conference by highlighting West Point Women stories - think of it as "the Days" but much more fun because it will be about US! Please be sure to take a look at this week's highlights as well as the West Point Women's Conference resources below. We look forward to seeing you in April!
Best,
West Point Women's Conference Planning Committee
++
Ma'am, there are 94 and a butt days remaining until the West Point Women's Conference! In honor of the 9 weeks left, here is some West Point Women knowledge!

9 West Point Women Moments of History

1. 1926: The Margaret Corbin monument was installed and dedicated near the entrance of the West Point Cemetery by the Daughters of the American Revolution. Corbin was a heroine of the American Revolution who lived in Highland Falls, NY.
2. 1976: The first class of women joins and the Margaret Corbin Forum was founded to educate the Corps of Cadets on women's roles in the military.
3. 1980: The first class of women graduate.
4. 2004: The West Point Women's organization was founded.
5. 2006: The first West Point Women's Conference was held in honor of the 30 year anniversary of women at West Point.
6. 2013: The second West Point Women's Conference was held with the theme of Connecting, Inspiring and Empowering.
7. 2016: The third West Point Women's Conference was held commemorating 40 years of Women at West Point.
8. 2020: West Point has a record 38 black women graduate with the Class of 2020.
9. 2021: Four West Point Women are awarded Rhodes Scholarships – the most in one year!
Check out the website to learn more! https://www.westpointaog.org/2022WPWomenConference 
Thank you to our sponsors so far!
• Silver Sponsor: West Point Women Class of 1984
• Silver Sponsor: Kate Shattuck '96
• Sponsor: Felisa "Sally" Lewis '90
Get more information on how to sign up to be a sponsor at the conference at this link: https://www.westpointaog.org/document.doc?id=11577
Want to be an exhibitor at the conference? Find out how at this link: https://www.westpointaog.org/document.doc?id=11598
---