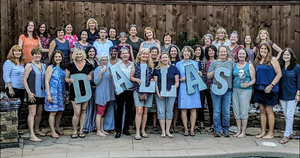 Last Call!  Registration closes SUNDAY NIGHT at 10 pm!
Don't miss the chance to inspire and be inspired by all that is West Point Women! Join us for the  4th West Point Women's Conference celebrating 46 years of women's achievements at West Point, April 7-9, 2022.

Registration is open to West Point Women graduates and their guests. Register before Sunday, March 27th at 10pm EST by visiting the conference website below. Please read the FAQ before registering.Proof of vaccination is NO LONGER REQUIRED. Instead a NEGATIVE COVID TEST WITHIN 72 HOURS is acceptable.

https://www.westpointaog.org/2022WPWomenConferenceerid=d3bb6293ed32470cb8bef3bdf5cd5a2d&trid=d3bb6293ed32-470cb8bef3bdf5cd5a2d

Conference Questions 845.446.1649 or alumniconferences@wpaog.org

Presenting even more great speakers! 
Sharon Melnick, PhD
Sharon Melnick, PhD is a leading authority on women's leadership, resilience, and power and has been selected as a Marshall Goldsmith Top 100 Coach.  Her approaches are informed by 10 years of Psychology research at Harvard Medical School.  She has coached/ trained 35,000 women at over 50 Fortune 500 companies and healthcare organizations.  Her presentations have created buzz at over 200 conferences worldwide (including presenting at the White House and the United Nations).   With a deep understanding of the impact of gender and intersectional bias, she is a sought-after woman's leadership expert.
Lil Pfluke '80
Lillian Pfluke is a retired US Army major who graduated in the first class of women from West Point in 1980. She spent her career in the Army as a mechanical engineer in the US Army Ordnance Corps. After moving to Paris, France in 1995, she spent ten years working for the American Battle Monuments Commission and then developed her own non-profit to continue that mission. Pfluke currently resides in Germany and works as a math professor at one of the University of Maryland's global satellite campuses. Pfluke has held several world titles in cyclocross and mountain biking. She is also a former National Military Triathlon Champion and has twice held the title of both the National Cycling Military Triathlon Champion and European Military Skiing National Champion.
CPT Kristen Griest '11
CPT Griest made history in 2015 as one of the first two women to graduate the Army's famously difficult Ranger School. In April 2016, Captain Griest earned her blue Infantry cords upon graduation from Maneuver Captains Career Course. She requested a transfer from her Military Police unit and became the first female infantry officer in the United States Army. She was assigned to 4th Ranger Training Battalion of the Airborne and Ranger Training Brigade at Ft. Benning as a platoon tactical trainer. CPT Griest became the first woman to lead a company of infantrymen commanding in the 82nd Airborne Division at Fort Bragg, NC. She is currently pursuing a Master's degree at Columbia University and will serve as a TAC officer at West Point.
CPT Nargis Mougey '10
CPT Mougey's father was a businessman who was involved with international rescue in his home country of Afghanistan. He fled the country during the Soviet occupation and her mother, and five children fled to Pakistan, where Nargis was born in a refugee camp. The family eventually moved to the United States. When she was 17, she enlisted in the Minnesota National Guard as a 93P Aviation Specialist. Her high school basketball coach encouraged her to apply to West Point. She commissioned as a Field Artillery Officer and was one of five women in a class of 100 lieutenants in her basic course. Her first assignment was to the 82nd Airborne Division, and she was immediately selected to be the Commanding General's cultural advisor during a deployment to Kandahar, Afghanistan. After returning to Ft. Bragg, she became the first woman assigned to lead an M777 platoon. Later she was the first woman to command an Artillery Battery in the 3rd Infantry Division. After earning a Master's Degree at Texas A&M, she returned to West Point and taught in the Department of Physical Education. Currently she is an instructor at USMA.
Madeline Salvani
Mady Salvani is in her 40th year in the Office of Athletic Communications, and 30th season as an assistant director. Involved in all aspects of the athletic communications operations, Salvani currently oversees women's soccer, gymnastics, rifle and softball. She is also the Director of Research and Special Reports. Salvani played an integral role in assisting the Academy with the integration of women by serving as the first female Sports Information Director, covering the first women's varsity sports. As the first female administrator inducted to the West Point Hall of Fame, who was not a USMA graduate, Salvani served as the first female SID in 1976 when women were admitted to West Point. She has pioneered the industry by breaking through barriers such as females not being allowed in press boxes, prejudices of women insportsand adapting to technology changes throughout her tenure. Salvani is a 2001 recipient of the ECAC-SIDA University Division Marsh Award.
Send us your Pictures!
West Point Women are everywhere! Send us photos of you meeting up with your friends and classmates  whether you are hiking, biking, gathering or just hanging out! We want to celebrate our Sisterhood!
 https://westpointwomen.org/pages/photo-submission
---