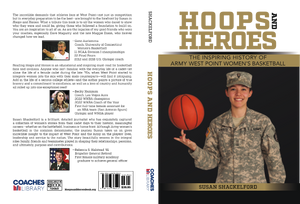 'HOOPS AND HEROES' SPOTLIGHTS RICH HISTORY OF ARMY WOMEN'S BASKETBALL
First nicknamed the Sugar Smacks, Army West Point women's basketball team had little sweet about them when they debuted in 1976 — except their success.
Tough and scrappy, their outsized impact on the acceptance of women at West Point is among the compelling stories captured in the new book, "Hoops and Heroes: The Inspiring History of Army West Point Women's Basketball."
Authored by journalist Susan Shackelford and available for preorder at hoopsandheroesbook.org, the book chronicles a trailblazing program that has helped develop women as leaders in the Army, corporate life and the community. The narrative offers a glimpse into the lives, challenges and closeness of many of these women, their coaches and others affiliated with the team.
The 423-page book features 188 photos and a foreword by chairperson of USA Basketball and former head of the Joint Chiefs of Staff, retired Gen. Martin E. Dempsey. The book also includes in-depth looks at Coach Maggie Dixon, the magical 2005-06 season and Patriot League superstar Kelsey Minato.
Available starting April 15, 2023, "Hoops and Heroes" has drawn acclaim from basketball and military leaders.
UConn women's basketball coach Geno Auriemma: "The incredible demands that athletes face at West Point — not just in competition but in everyday preparation to be the best — are brought to the forefront by Susan in 'Hoops and Heroes. "What a tribute this book is to all the women who dared to show who they were and could be, giving those who followed a foundation to build on."
WNBA champion coach Becky Hammon of the Las Vegas Aces: "Reading 'Hoops and Heroes' is an educational and inspiring must-read for basketball fans and civilians. Anyone who isn't familiar with everyday life of a cadet — let alone the life of a female cadet during the late '70s when West Point started to integrate women into the mix with their male counterparts — will find it intriguing. Add in the life of a serious college athlete — and the author paints a picture of true bravery, commitment to excellence and love of country and humanity all rolled up into one exceptional read!!"
Cindy R. Jebb, brigadier general retired, the first woman to serve as academic dean at West Point: "I am struck by how the author captures the raw honesty of the interviewees that ultimately, for some, reveals a story of quiet strength and, for others, not-so-quiet strength. This story is one of grace because over the years, relationships evolve, deepen and awaken; in fact, many of the early naysayers changed their tunes as women made clear they were here to stay."
Nadja Y. West, lieutenant general retired, the first woman to serve as U.S. Army surgeon general: The first women "not only braved the rigors of West Point but stepped up to create a magnificent team that was about much more than basketball. Their phenomenal example of courage and excellence against incredible odds awed supporters, turned naysayers into admirers and garnered respect and credibility for women at West Point…"
The nonprofit Friends of Army Women's Basketball commissioned the book. Shackelford, who co-authored "Shattering the Glass" with Pamela Grundy, has her own writing and editing business based in Charlotte, N.C. She is a former sports writer for The Miami Herald and The Charlotte Observer.
For more information, go to hoopsandheroesbook.org or contact Melissa Miles at missmiles52@gmail.com.
---